Kinigi Church in Rwanda
The Buying Networks is partnering with a church in Kinigi, Rwanda. We are raising $5,000 to send to this church, so they can complete the work they began 14 years ago to become a Compassion International Site (www.compassion.com). By becoming a Compassion International site, over $100,000 per year will be funneled to over 300 sponsored children in this community to help children go to school, get fed, learn to make a living, helping to bring these people out of the ravages of poverty. These people are incredible poor, but have a heart for Jesus like I have never seen here in the United States. This money will be sent to them through another organization called Microseeds (www.microseeds.org). My friend and brother in Christ, Kurt Holman, visited these people and this church on his recent trip to Rwanda. The pastors in these churches do not get paid; they dedicate their lives to be the hands and feet of Jesus. Please contact us if you would like to be a part of making a huge difference in the lives of thousands of people. Please help us, I guarantee you that 100% of your money will go directly to this community's needs. Email us.
ABOUT KINIGI CHURCH IN RWANDA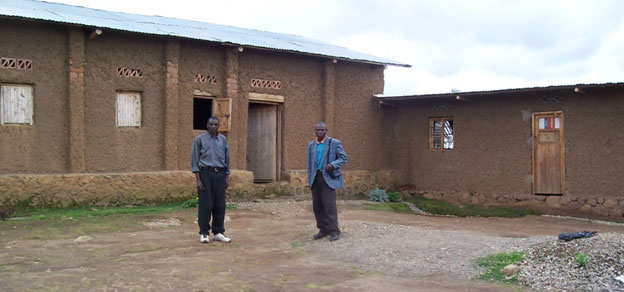 The picture above is the church building and the house planned for children compassion project. This church is located in northern Rwanda in Musanze District. It is one of the nearest churches to the Rwandan mountains of gorillas. It has started in 1996. This was a very hard time of depression because of insecurity caused by rebels through the forest of volcanoes from the country of Congo. It was very difficult to start a church in that time though people of Kinigi area really wanted the word of God to comfort and relieve them of war depression and fear. The people of Kinigi area faced troubles of 1996 just 2 years after the genocide of 1994 which touched many families in this area and only the Good news of Jesus would comfort them.
Life of typical families that attend the church
The life of the people who attend the church is very miserable because of the wars. Most of the families don't have a decent place to live and those who pretend to have houses are in very poor and almost dilapidated houses. Inside the house there is just a dirt floor, no beds, no plumbing, most people sleep on a dirt floor. The people live by being small farmers, though the income is not enough to keep bread on the table for these families. The church would be happy to help the people to get out of that situation but this seems impossible as the existence of the church depends on extremely poor people. But by the power of Christ the church exists because it belongs to Him.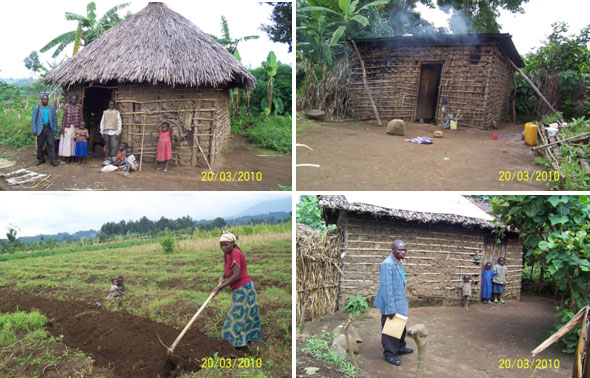 We would like to share the life and testimony of the Christians of KINIGI Church with our brothers and sisters from different Christian communities around the world so that we can all pray for good spiritual and physical life of Kinigi church. We were told to be guaranteed a project for kids from International compassion project , we needed to provide a church building, and some offices. We tried the best we could but we are still unable to meet the requirements to have that project at our church. The work that remains on the offices will cost $3,000US. We also plan to build a public rest room at the church which will cost about $2,000US. We would like to create an agricultural association for the poorest families to help them work together to alleviate their situation.
Pastor of Kinigi Church
Pastor Emmanuel Sebishyimbo serving at this church is a young man of 28 years old, married and has three kids. Emmanuel received Jesus Christ as his Savior in 1992. In 1998, he started to preach as a simple evangelist, 2001 he became a church lay leader and a pastor in 2003. Before he was saved, he was heavily involved in fighting, smoking, and drunkenness. His family had not known the true God, the Father of our Lord and savior Jesus. His family were all worshipers of an ancient (false)god for Rwandans before knowing True God. His family was one of the families that did not change for a long time. But after the repentance of Pastor Emmanuel, his entire family got saved and now they are all born again Christians. Pastor Emmanuel is now hand in hand with Jesus who helps him to endure a hard life of poverty.
The Pastor's Family
As well as many families of Kinigi area, the family of Pastor Emmanuel is very, very poor. The pastor only had 6 years of primary education and 6 months of Secondary education. He as well as his wife do not have an occupation, besides pasturing, that would generate an income to help his family. Pastor Emmanuel and his family are very poor, but even though he receives no pay, he still serves the Lord as a pastor. He believes what the bible says "with Christ we can do all because he gives us strength".
We believe that you will continue to pray for Kinigi church, the pastors and all impoverished people of Kinigi. If you would like to email Pastor Emmanuel. It will copy us as well. Thank you!

Please help us help these people know a better life through Jesus.

May God bless you,
Michael Silver, Founder and CEO The Buying Networks.